Shelby American will celebrate the 1960's Teringua Racing Team with the offering of 75 (post title) Ford Mustangs with a number of race components for a true "Track Day Ready" machine. 50 of these cars will be for the US Market and the remaining 25 for the International Market. According to Shelby representatives, "The new Shelby Team Terlingua Mustang is our most track-inspired Mustang offered".
The package will include a supercharged 5.0 liter V8 with over 750 horsepower and numerous other performance upgrades such as weight savings carbon fiber components, adjustable sway bars and coil over springs, big brake kit from Brembo, performance exhaust from Borla and many others to long to list here.
Colors from Shelby are not limited to just the iconic Yellow and Black livery. Many colors will be offered however the carbon fiber hood is limited to either the standard carbon black or the bright painted yellow. Along with the Racing Team livery of the exterior, a signed "replica" Terlingua plaque including the signatures of Carroll Shelby, Jerry Titus and Bill Neale will be placed in the interior with a separate numbered dash plaque. This "new" Track Day Ready Mustang is not cheap, It will "set you back" around $65,000 plus the cost of a GT Ford Mustang. First teats have been awesome and you can see them in the September 2016 issue of "Muscle Mustangs and Fast Fords" magazine. Come back later this year for some update info and hopefully actual test drive data etc… Until then;
TACH IT UP…………!!
Updated look of the Terlingua Yellow and Black from Shelby American.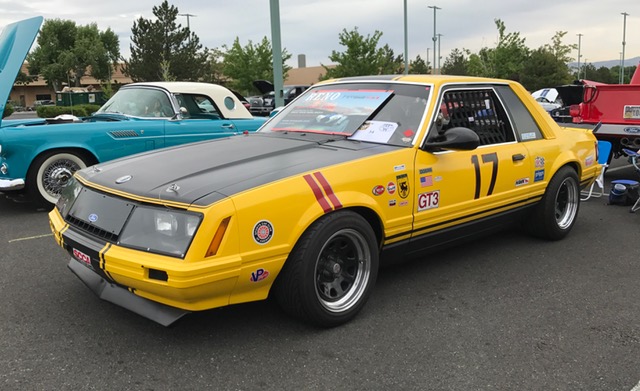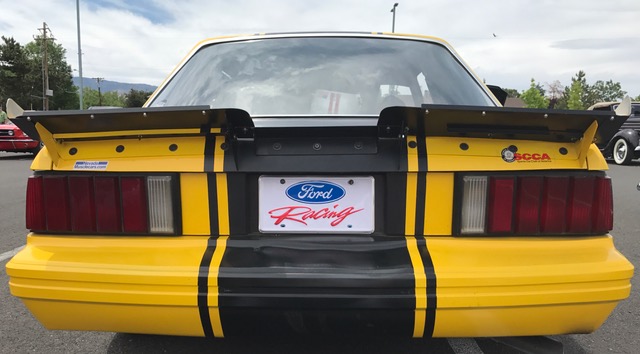 Our GT-3 Mustang with Terlingua Livery and #17 at this years Resto-Mods in Reno Ford/Mustang show at Peppermill Casino….