Just recently one of our very good friends and close associates for racemotionpix.com and nevadamusclecars.com, brought to us a number of old b/w pictures of many sports cars that he and his father owned many years back in the South Florida area. In the near future we will be posting some more photos, possibly some video production and some background info on the cars. Below are just a couple of photos of 2 VERY RARE Corvettes they owned in the early to mid 1960's. One is an ex-Briggs Cunningham 1960 Corvette that ran as #1 at Le Mans and was the purchased from Cunningham and converted into a Custom Vette. The second is a Scaglietti Corvette , which is one of only three ever built through efforts with the Chevy Engineering Team and the likes of Carrol Shelby,Jim Hall, Ed Cole and the famous Italian coachworks.
Please come back soon as we post few more pics and some additional insights into these iconic sports cars…….Until then…TACH IT UP….!!!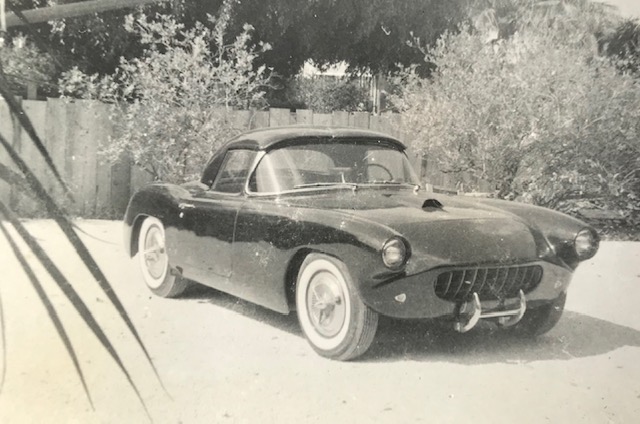 This is the ex Briggs Cunningham Le Mans 1960 Corvette that was customized after they purchased the Vette through "Willie" Fricke and was built in their South Florida garage. More pics to follow soon of part of the transformation and customizing of the '56 single light fenders and custom nose and rear treatment in progress. This car was just recently found after many years in a Florida warehouse and is supposedly going to be shown this month at Corvette Show in Carlisle, PA……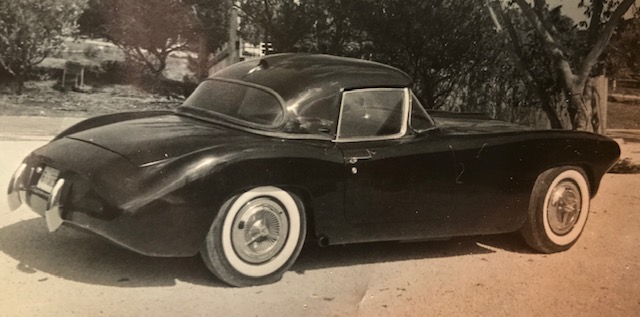 Rear quarter shot of the "Customized" Ex-Cunningham #1 Corvette showing the revised rear treatment with tail lights on rear panel and small bumpers relocated to center. Also large vent reversed scoop on removable hardtop can been seen along with the recessed side exit exhaust just behind rear of door. These pictures are from April, 1962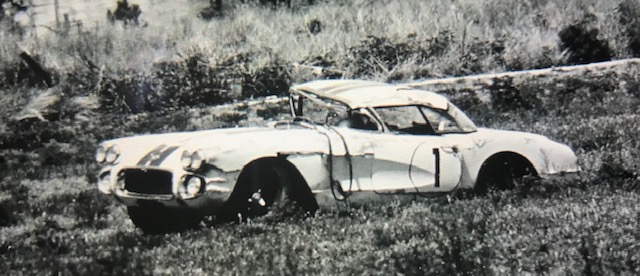 Jim Kimmerly in the #1 Corvette lost it at White House Corner and rolled up over a fence and landed in nearby field and an engine fire started but was quickly put out. This was the car then brought back and sold to Perry Boswell who was a good friend and partner with Willie Frick from Cunningham's shop.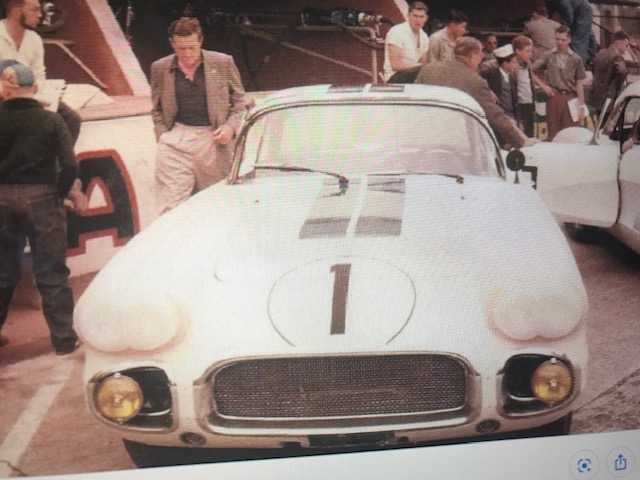 The famed #1 on the grid for Le Mans prior to the start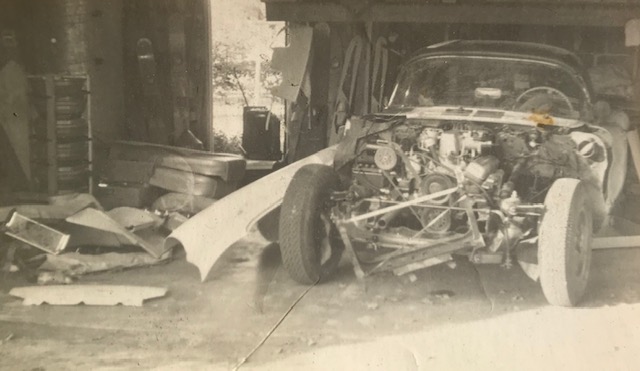 The Ex-Cunningham Le Mans Corvette #1 being stripped of it's race front end in prep of new fenders and custom nose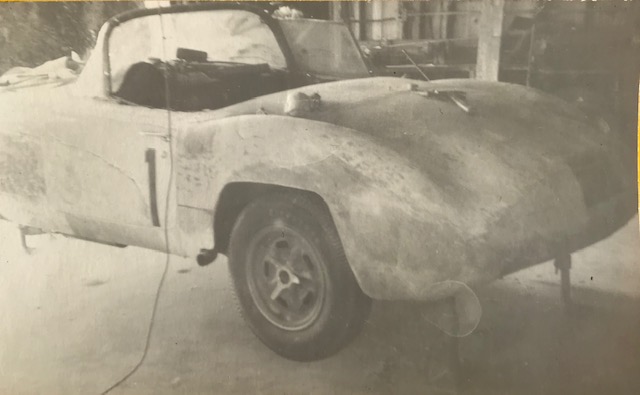 Custom fiberglass work well underway on the Cunningham Le Mans to Custom Roadster conversion. Here you can clearly see the race #1 on rear of door from the 24 Hr Race and the classic Halibrand Knock Off wheels and the side exit exhaust in front of the changed radius rear quarter.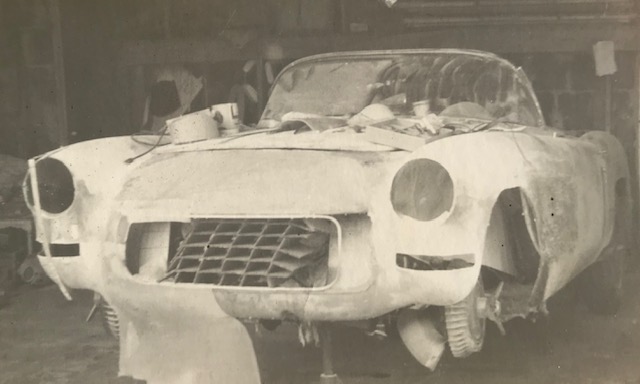 New single light '56 fenders now in place with the side coves filled in and custom nose being mocked up. Can also barely see the #1 on hood and the scoop used for the race….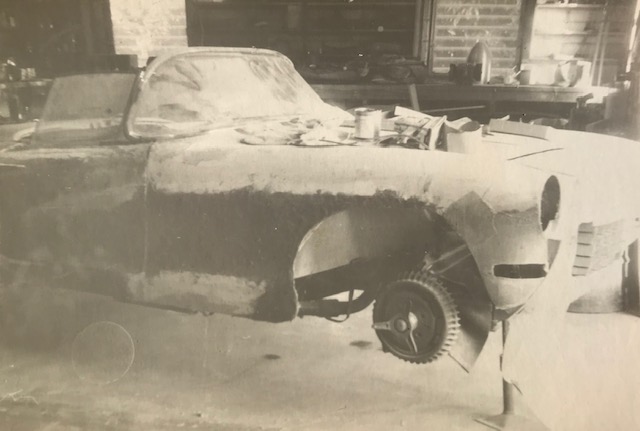 Front fender shot with side cove work about complete. Also can see the larger brake drum that was run for the race and the knock off spinner and spindle.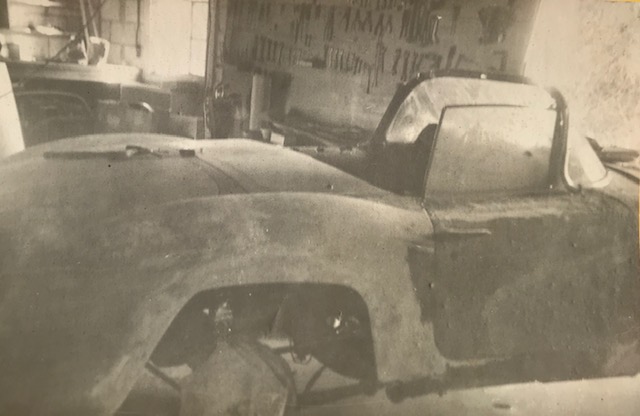 Partial rear quarter showing the fiberglass work to square off the larger stock wheel radius…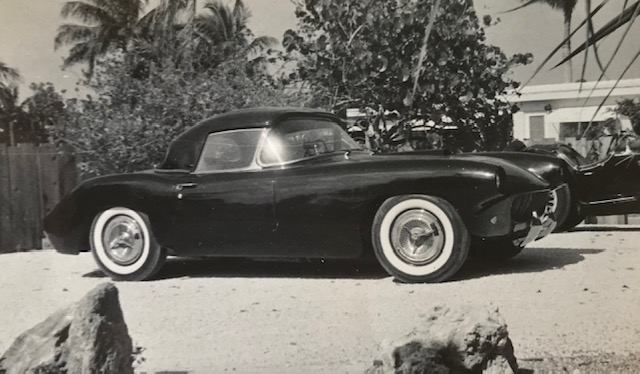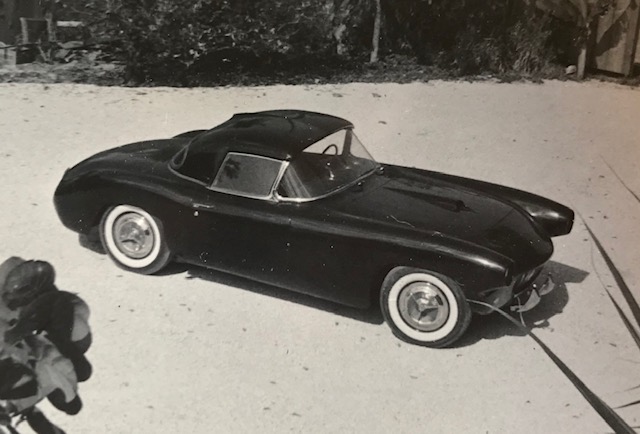 The finished CUSTOM CUNNINGHAM CORVETTE now with the new nose, fenders, rear and side cove treatments. Also, more to the style of a '50's Custom with the wide whites and spinner hub caps……..I will have to find out where the iconic Halibrand Wheels went? Maybe back to Briggs's group or to Fricke?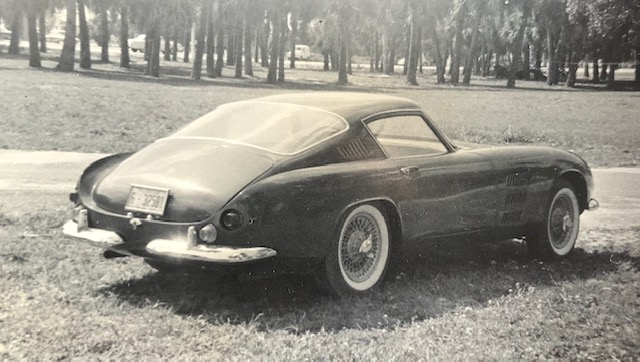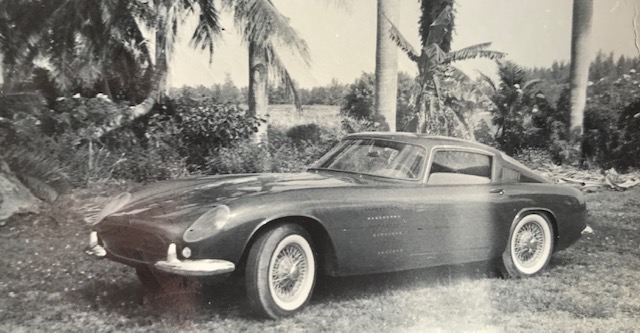 This is the Scaglietti Corvette, believed to be the first of the three made, here in this picture in South Florida in 1962. This car was purchased from the original owner, Gary Laughlin, who got it through his connections with Carrol Shelby in Texas. This car was then in the Boswell Family until the early 1970's. More to come in the future on this rare machine…..
(PHOTOS COURTESY OF THE PERRY BOSWELL ARCHIVES)