During this Covid-19 pandemic shutdown, I have started to sketch and draw old Vintage Race Cars again after many years of not doing too much. It has been fun to create some images of the past using a partial sketch,trace and colored marker technique I learned in college at Cal Poly San Luis Obispo many years ago in some Architectual Rendering classes. My wife liked how they were turning out, especially the old Mini Cooper like her new one, and suggested that maybe a Coloring Book would be a good idea to sell and promote some of the things like we use to do more of with the site. So my initial idea back in early April of this year was to try and have a number of the drawings done and just put something together ourselves for HOT AUGUST NIGHTS for this year 2020. However with the event being cancelled and contacting a local publisher here in the Reno/Tahoe area, we are now actually going to publish the Coloring Book. We are working with a long time publisher in the area named Le Rue Publishers and have been putting things together over the last 2 months to release soon in September. We already have a number of interested book stores and others once completed.
Part of the extra time to put this together was to go back and clean up the "rendered and colored" drawing with more of a pen and ink open style to actually color for kids and adults and to do some different backgrounds as most of the color books show in final form.
Below are a couple examples of the 25 or so drawings of classic and vintage race cars from the mid 50's through the mid 80's.
This will be completed and ready for sale and distribution soon so please come back to check it out.
As always until next time……TACH IT UP…!!!
The initial rendering of 250 GTO Ferrari that will be part of the Coloring Book Collection but just in pen and ink black and white for the enthusiast to create what they want. Either in traditional colors, like red with Ferrari or whatever they would like to in their creations.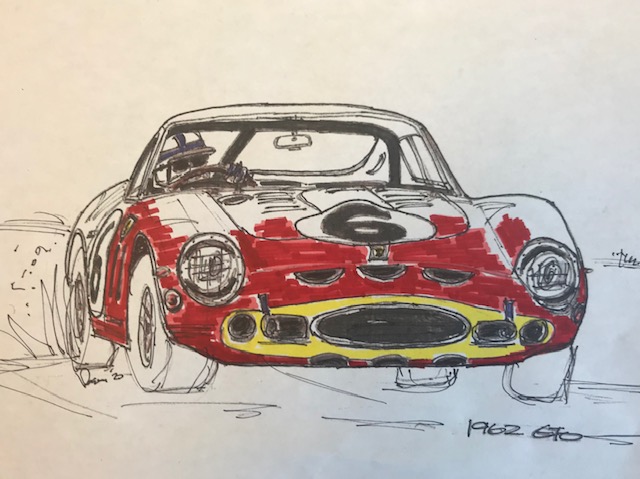 This "Partial" colored rendering will be part of back cover to show a quick technique with Sharpie Markers that I use typically.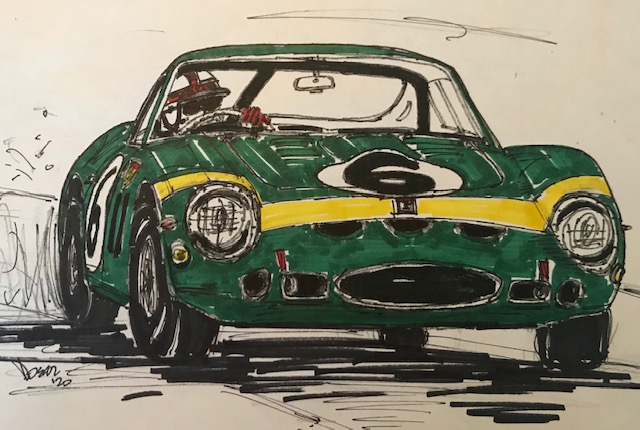 Another quick rendering of the GTO with traditional British color combination as Stirling Moss or Jim Clark might have run "back in the day"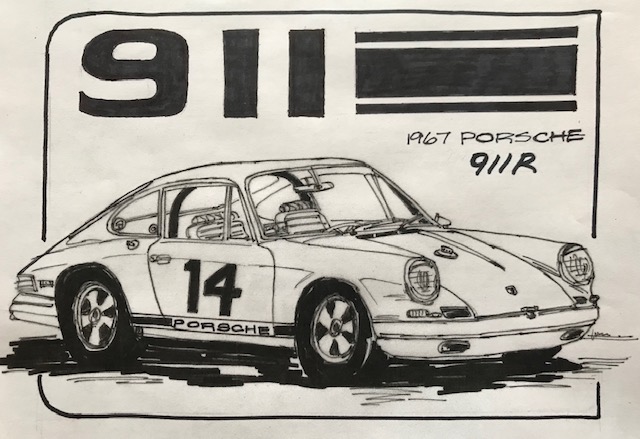 This is generally the black and white format that the Vintage Race Car Coloring Book will have for the pages. This drawing is of our Porsche 911 R replica that we ran with SCCA and few others in the later 1990's here out of the Reno area when Porsche had their United States Headquarters here in town.
Another example of partial rendering from the Coloring Book. This one is of a 365 GTB Ferrari "Daytona" before lettering and some other background. Kids will have a lot of stone pavers to color on this classic race car scene.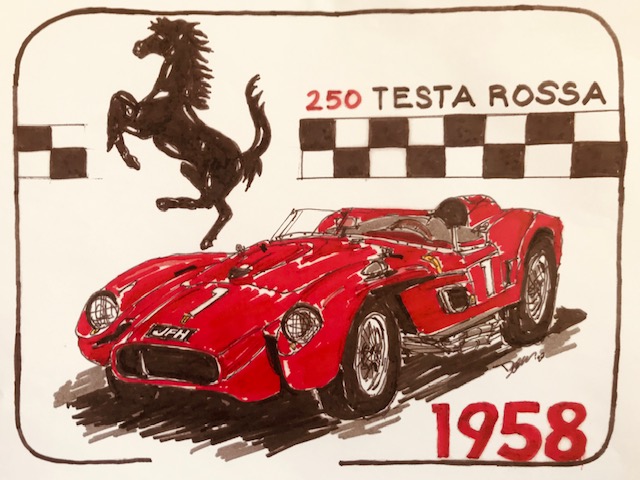 Colored sketch of a pontoon fendered classic Ferrari 250 Testa Rossa with our checkered flag background theme that will be part of the Coloring Book collection…..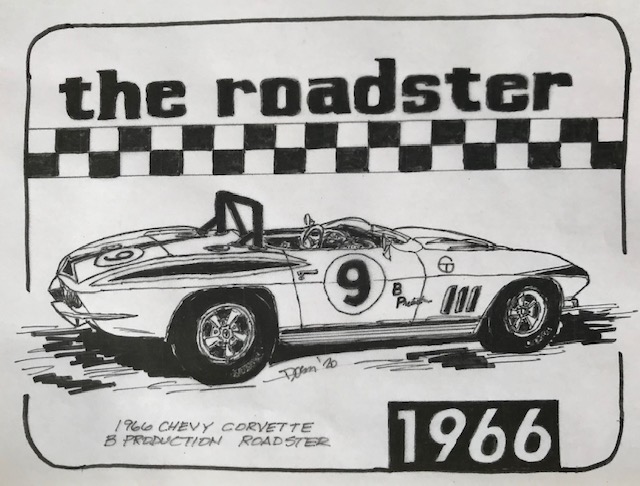 1966 Corvette Roadster SCCA B Production Racer in pretty much the format for the pages of the upcoming Coloring Book with a number of Vintage Race Cars being published by Le Rue Publishers here in the Reno/Tahoe area…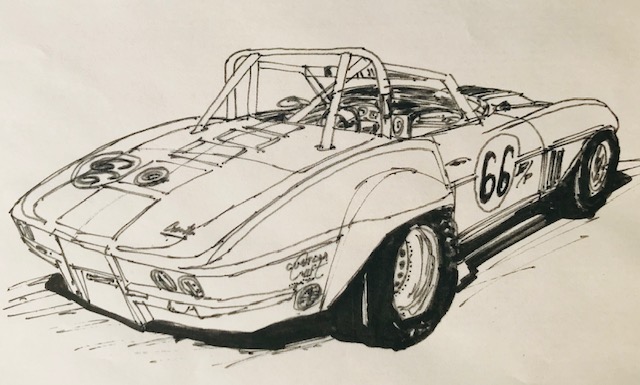 Custom Craft 1966 B Production SCCA Corvette road racer roughed out line drawing that will be part of second edition Coloring Book.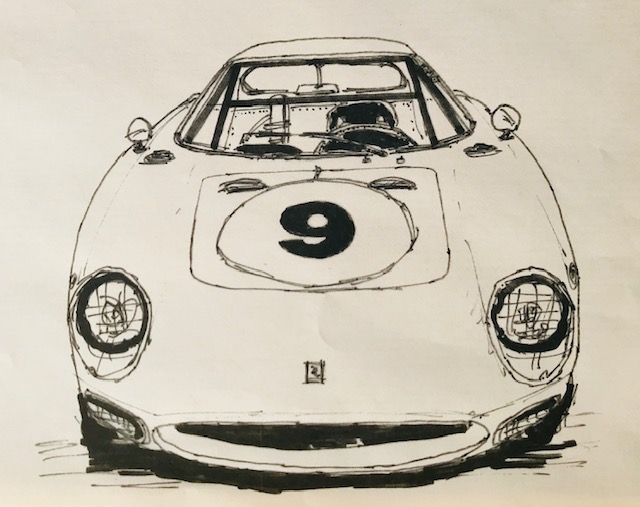 Another current "in progress" roughed out line drawing of Ferrari 250 LM as run at HMSA Historic Races few years back at RFR to also be in the second edition.
Another rough colored example of the Ferrari 365 GTB/4 Daytona in yellow like the "Eucurie Francorchamps" Team from Belgium ran back in the day..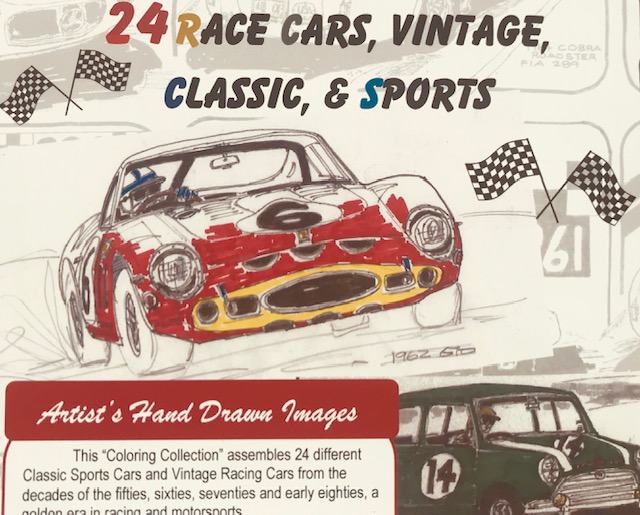 Draft of part of the Back Cover for my Vintage Sports and Racing Cars Coloring Book that is in final stages of being published and getting ready for distribution. Stay tuned for this fun book……..