Chassis # CSX2602 was the fifth Shelby Daytona Cobra Coupe completed in Europe by the Carrozzeria Gransport for Shelby American and Ford Racing. It competed in 6 races in the 1965 Season at Daytona,Sebring,Monza,Spa,Nurburgring and finally at Le Mans. However there was a bit of a twist to the formal entry situation.
This Cobra Coupe was painted in the red and white team colors of Scuderia Filipenetti for Le Mans. Ford and Shelby had used up all of their allotted entries for the 1965 Race and asked the Switzerland Team of Georges Filipenetti,who usually ran Ferraris,to race a Cobra Coupe and enter it separately for the French Championship Race. They did and ran it for just that once in the red with single white stripe livery as #59.Peter Sutcliffe and Peter Harper were the team drivers for the Filipenetti/Ford. They ran very solid and challenged up front for a bit,but retired in the 10th hour with a blown engine. After the Le Mans race, the Cobra Coupe went to Alan Mann Racing in England and was repainted in the more familiar and well known Shelby American Team Colors of Guardsman Blue with the twin White stripes and was never "officially" raced again. This is just an interesting side note to the Championship Years 50th Anniversary of 1965 which will now be brought up some more as the 2015 Le Mans 24 Hour race draws nearer in June of this year.
This is definitely our Favorite liveried Cobra Coupe as being the "One Off" for the Le Mans '65 even though it did not finish. Once in a while you will see one of the replica coupes in red but not very often here in the US. For awhile I have toyed with building one of the replica kits from either Superormance or Factory 5 as probably 90% of the "Kit" coupes seem to be done in the blues…..
TACH IT UP……!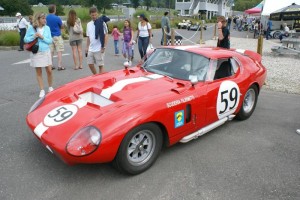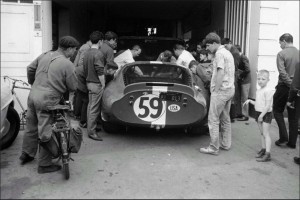 Replica Coupe in Red/White Scheme      CSX2602 in garage at 1965 Le Mans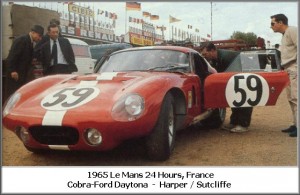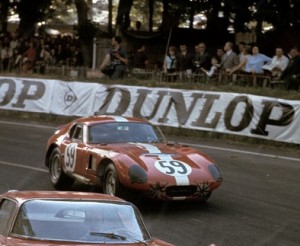 Harper/Sutcliffe Coupe it pits             Solid run in '65 race for "The Red Coupe"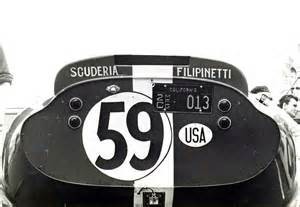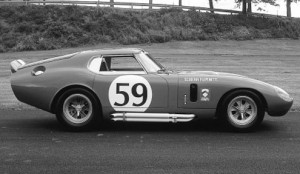 Red #59 with Shelby Calif Mfg Plate      Team photo prior to heading out to France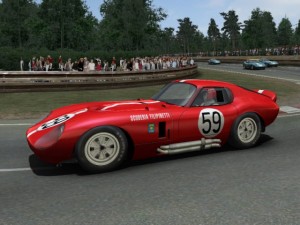 Digital "re-creation" of the #59 Daytona Coupe in Le Mans racing game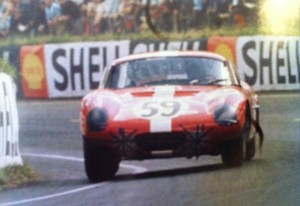 Just prior to retiring with an engine problem at Hr 10
Our Die Cast Direct model of the #59 "RED COUPE" from 1965 Le Mans. A true "Favorite"